Weekend on England's Jurassic Coast
June 24-July 1 was one of those weeks. Nothing goes right and all commitments and sanity go out the window. For one, the weather in Birmingham BLOWS and I do not understand how people handle it. Do not let the above picture deceive you. That was not taken in Birmingham. Secondly, I received 2 parking tickets because I'm a total idiot. Third, Penny suddenly became very ill with alarming symptoms and we had a very expensive week in and out of the vet's office. As a result, I spent my week reading about dog illnesses and medicines and remedies and food. Now, I'm going to share trip reports out of chronological order because I feel like it and I'm the boss. Thankfully, the dog is doing much better and we were able to get away for the weekend to celebrate the 4th of July.
One bucket list item that we've been dying to check off our list this summer is a visit to the Jurassic Coast on the English Channel. This part of the coast is England's only natural World Heritage Site, which places it in the same category as the Great Barrier Reef, Grand Canyon, and Yellowstone. Of the 1,000 or so World Heritage Sites, less than 200 are naturally occurring, and England's Jurassic Coast looked positively dreamy. 95 miles of rock formations, cliffs, and beaches cover 185 million years of Earth's history: the Triassic, Jurassic and Cretaceous periods.
As you can imagine, fossil hunting is a popular activity. When I visited London's Natural History Museum a couple months ago I was surprised at the number of whole, intact fossils on display that were discovered along the Jurassic Coast, many by an impoverished woman named Mary Anning. Mary was a sort of Princess of Paleontology, and her numerous discoveries not only pulled her family out of poverty but also ended up in museums around the country. Her lizard/fish/dinosaur/turtle-like creatures of all sizes are in London's Natural History Museum, and I highly recommend a visit. It's the only non-creepy natural history museum I've ever seen (due to its emphasis on dinosaurs and fossils over taxidermy). The building itself is also stunning.
Moving on... We decided the 4th of July just wasn't the 4th of July without a little sun and beach time, and since it's persistently grim in Brum, we headed south to the county of Dorset, starting in Weymouth. The city is a great launching point for exploring the Jurassic Coast, and it supposedly tallies up more hours of sunshine than anywhere else in England. Fine with me. We walked along the harbor and the beach, explored the tiny side streets and shops, and bought some goodies for our campsite that evening. We met a chatty and very kind man from Wales who was visiting for the weekend with his children and grandchildren. As usual, Brexit and Donald Trump came up, but for the first time, so did Taylor Swift and Beyonce. He asked me if I was from Northern Ireland. You guys - this question marks a triumphant moment in my quest to appear as close to invisible as possible! My accent and adorable puppy-like dog draw attention everywhere I go, and sometimes I just don't want to answer questions. Sometimes I don't want to explain why I'm here and what I think about Donald Trump. If the small talk topics would vary, maybe I wouldn't feel this way. At this point, I have picked up enough British lingo that I can utter short phrases or noncommittal sounds without sounding American. But this guy totally made my day when he incorrectly guessed my nationality.
After Weymouth we drove a few miles east and saw Chesil Beach, a 15 mile long pebble wonderland formed by the remains of a landslide that occurred 100 million years ago. Its vastness was surprising, but other than that, it was just a pebble beach, so we moved on to our campsite. This place in Osmington was a serious find and I think we'll return if we ever decide to camp again. It had great views, coastal access, and was within walking distance of a 14th century thatched roof pub.
Camping Attempt #2 was much more successful than #1. We packed food, our grill, wood, and 2 down blankets. We planned to encase ourselves in feathers so we couldn't feel the hard ground or the cold night air. This seemed entirely necessary; you can still see your breath when the sun sets. Talk about overkill. I woke up sweating to death, claustrophobic, convinced I was being smothered by an evil cloud.
The following day we drove a bit further east to Durdle Door, Man of War Beach, and Lulworth Cove, three of the more popular stopping points along the Jurassic Coast. There were more people than we expected, many from other countries, and many very overdressed. I don't know if its an American thing or just a personal preference, but I don't see the point of wearing anything other than gym/outdoor clothing if I know I'm going to be exerting myself and sweating. Perhaps I've just totally let myself go in the last year.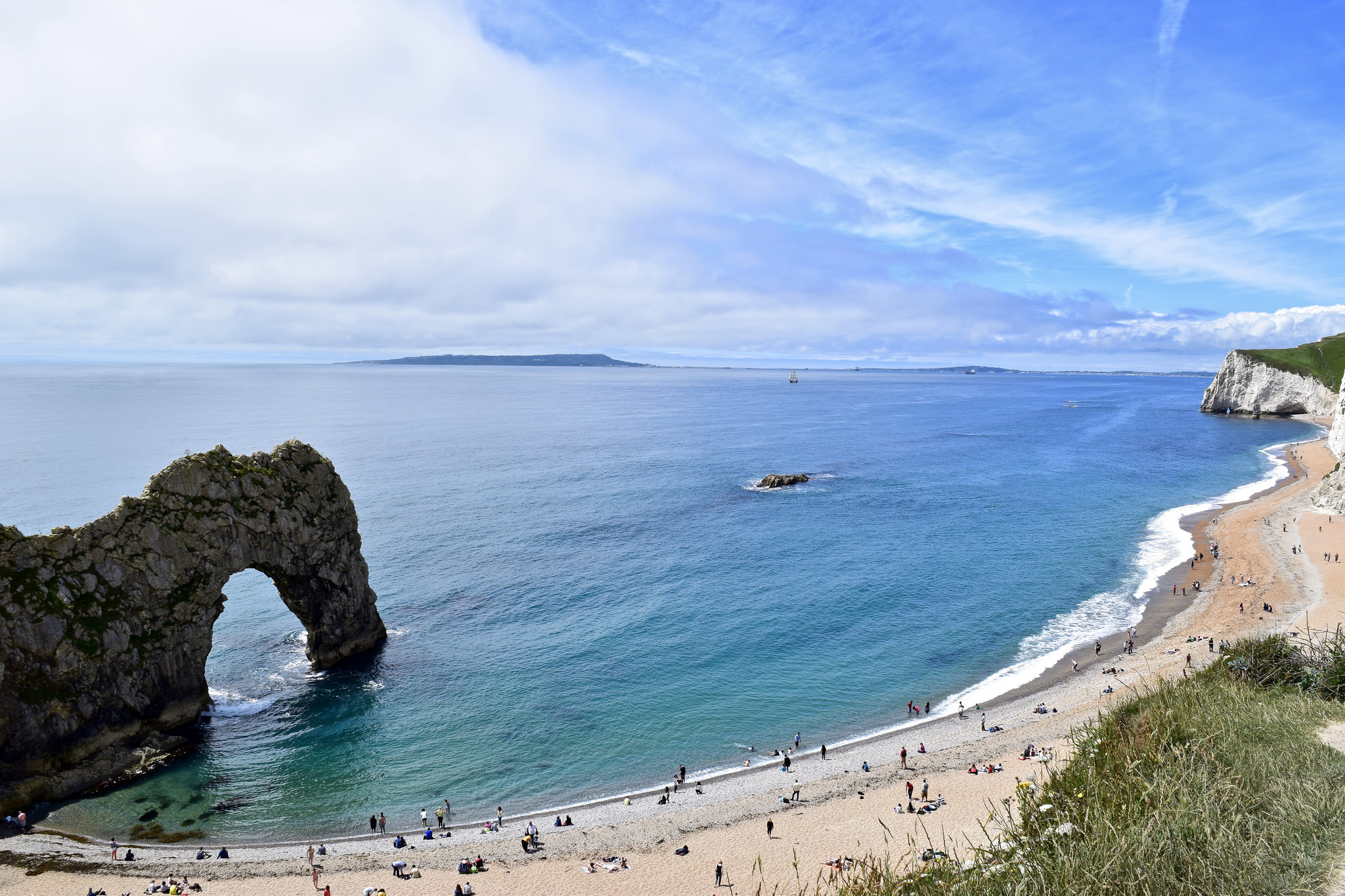 Lulworth Cove had a small visitor's center, shops, fishing huts, and everyone was serving seafood. We were so tempted to try the Michelin restaurant offering fishermen pints of beer in exchange for their daily catch, as long as the fish passed inspection by "Philip or the chef." Instead, we opted for a stand at the seaside selling fresh fish so we could continue enjoying the sunshine. Connor had fish and chips and I had a crab sandwich. Both were delicious.
It was a gorgeous weekend and we'll definitely be back to the Jurassic Coast to keep exploring the bays, cliffs, and paths. And I don't think I'll ever have my fill of seafood, so even if we end up with a rainy day I think I'll be a happy camper. As long as we aren't camping in the rain...