Lisbon
Portugal is such a lovely country - beautiful towns, friendly people, officially the best wine, and very convenient. From renting a car and driving to Fatima, using Lisbon's metro system from the airport, and finding public WCs... everything was smooth sailing. (Never underestimate the importance of public toilets!!!) We found a great Airbnb in the Alfama neighborhood which is the oldest district and consistently listed as one of the top areas to explore in Lisbon. If you don't mind lugging your suitcase up and down the cobblestone maze-like streets, we highly recommend this neighborhood as home base! Thanks, as always, to my wonderful husband for being Minister of Suitcase Schlepping.
This trip we focused on exploring outside, taking advantage of the sunshine, trying local flavors, and relaxing by the river front. Lisbon also has museums and a highly rated botanical garden for chillier or rainier visits.
After spending Thursday in Fatima, we arrived in Lisbon in time for dinner, grabbing the last two seats in a fantastic tiny wine bar. Wine Bar Do Castelo serves Portuguese wine, regional cheese and charcuterie. Everything we tried was excellent and it was a wonderful way to cap off an awesome pilgrimage day and start experiencing Lisbon.
The next day we explored our little area. The Alfama district survived the 1755 earthquake and fire that wiped out the rest of Lisbon, so its streets are full of historic charm, family run shops, traditional cuisine, and secret little corners. Alfama is home to Lisbon's Cathedral, the Church of St. Anthony where St. Anthony of Padua was born (yes, he's Portuguese not Italian), St. George Castle, the famous #28 tram, ruins of a Roman amphitheater (free to visit!), the National Pantheon and nearby flea market, and fantastic miradouros (viewpoints) looking out over the city and water.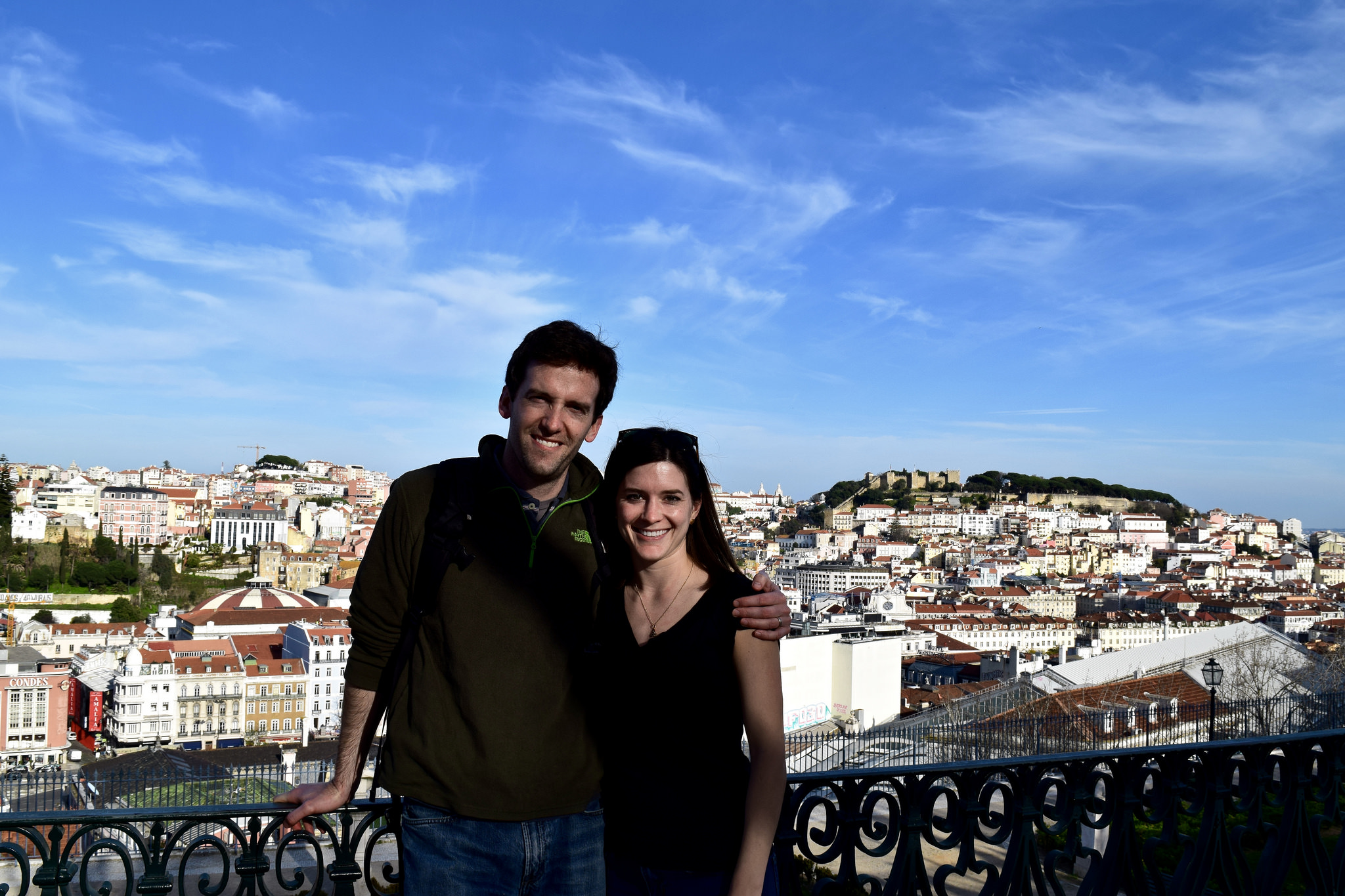 Saturday we checked out Alfama's flea market, the largest I've seen. Vendors stretched up and down streets in every direction and even set up shop in the middle of the road. Tuk Tuks jutted in and out and miraculously we didn't witness any road rage. The variety of items for sale was impressive, from actual antiques and interesting collectors items, books and handmade artisan products, to the usual mass-produced souvenirs and literal junk scavenged from trash day. Frankly, it was a bit overwhelming, so after we bought an olive dish from a ceramic shop we destressed over a cup of coffee at a kiosk.
Lisbon kiosks around every corner that essentially function as cafes. We had coffee at one, beer at another, wine at another... one was set up as a miniature library in a park. And they all have bathrooms, so its definitely worth paying 1 euro for a coffee and then asking for the key. Between the kiosks, fun little Tuk Tuk taxis, vintage trams, and pastel buildings, Lisbon felt a bit like an adult fairy land.
One afternoon we walked a couple miles outside the bustling center to the Jardim de Estrela (park/gardens). It was a bit early in the year for discovering new plants but this is bound to be a gorgeous park when everything fills out in a month or two. Across the street is the Basilica de Estrela, an 18th century Baroque church, so we visited that before taking the famous #28 tram back to Alfama.
LOCAL FLAVORS
I am officially in love with Portuguese wine of all varieties. Last September in the Algarve we found the crisp and acidic vhino verdes to be the perfect summer beverage. The Casal Garcia brand has been around forever and if the price isn't enough reason to stock up (under €5), the beautiful label gives you an excuse to display your fab finds. When looking for reds, we didn't recognize a single word on a single label, and later learned Portugal has over 250 indigenous grape varieties with few imports. We've loved wines from the following regions: Minho, Douro Valley, Alentejo, Stubal, Tejo, and Lisboa.
Sagres is the local beer of choice. Its a typical lager. If you're into regional lagers, buy it from a legit grocer who clearly displays the price. Tiny corner stores will still be cheaper than buying a Sagres from a kiosk (just walk over and sit at the kiosk and no one will know the difference). HOWEVER we just started to realize (literally this month) that tourists like us are consistently taken advantage of when buying things at corner stores. If the price isn't clearly displayed on the product, flee. They will charge you whatever they feel like that day and since you can't speak their language, you just allow yourself to be robbed.
Craft beer in Lisbon can be enjoyed at a great little place called Duque Brewpub. You're welcome.
Best Portuguese snack: Pastel de natas. Little custard tarts. The best and most traditional are from Belém, west of Lisbon. We didn't make it that far outside the city, but if we go back someday we definitely would make an effort to get there. Not just for the tarts, but also the UNESCO listed sites. We bought pastel de natas from the Mercado da Ribeira for €1. Great modern food court in a gorgeous market building with tons of food options.
Best lunch: Bifanas from a local hole in the wall called As Bifanas Do Afonso. No website or phone number on Google, just an address on Rua da Madalena. Bifanas are a heavenly pork sandwich on a warm bun, preferably eaten standing up at a bar. If you're lucky, there will be a few local grandpas throwing back mini glasses of wine poured from a box on the wall.
Sardines! And other "tinned fish." So so so good. I'll try anything once! Visit Loja das Conservas to educate yourself about the many Portuguese companies that tin fish, the history behind each brand, and the most popular flavors. The staff here are fantastic and we sampled some items, ultimately choosing two to try. I have to give Connor a shout out for being such a good sport. When I met him, the number of food items he claimed to dislike was fairly large. Today, there are very few things left on that list. Tinned fish remains up for debate, however.
Trying local flavors and discovering new foods and ways to eat has been one of my favorite things about traveling. The more we eat our way across Europe the more I prefer mom-and-pop shops with awkward language barrier situations than posh Michelin places where everyone speaks English and notices that I'm dressed for exploring and not snobbish dining.
You guys, every published Lisbon food guide sung the praises of a place called Mini Bar, stating its inventive food, famous chef, value, etc. We tried it, and the food was delicious, don't get me wrong. But value!? They took the term "mini" to the extreme. 2 olives for €2.50. One bite of tuna tartar for €7. Please. If we hadn't snacked pretty heavily earlier in the day this dinner would have been a disaster.
We absolutely loved Lisbon, and though I still can't really narrow down a list of favorite places, I have been keeping a running list where I could see myself living. Lisbon is on that list. History, charm, great local flavors, culture, coastal location, enough English speakers to get by, and plenty to explore in and around the city. Public transportation is reliable, the weather is gorgeous, people are friendly, and there is a strong faith community.
If you're planning a trip to Lisbon and want great recommendations from a local, check out this site.